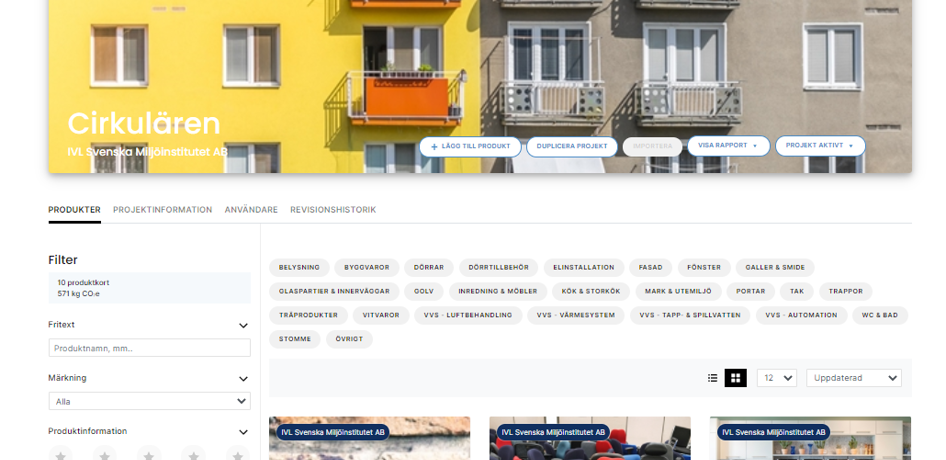 The product bank is the core of CCBuild's digital platform. 
In the product bank you build your own database of your existing resources. 
You can invite project teams to specific projects, use CCBuild's support for quality assessment and evaluation of re-use potential or use reports as a basis for material management plans or as decision support and for monitoring key figures, such as climate savings and reduced waste through re-use. The application varies and you use and adapt the functionality based on your needs. 
CCBuild's product bank is synchronized with CCBuild's market place and inventory app. 
CCBuild´s goal is to offer a digital platform that is simple, easy to use and that supports circular product and material handling during building, demolition and administration.  
CCBuild is developed within projects, in broad collaboration with over 30 project partners - property owners, architects, construction contractors, consultants, industry organizations and research institutes. CCBuild is financed by players connected to the platform and by Vinnova. 
As the project is accomplished CCBuild's goal is to be an industry-neutral and jointly used arena for players in the building and real estate industry. CCBuild is open for more organizations to join as an associated project partner. Please contact us for more information. 
Do you want to start using the product bank? In case your organization is already connected to CCBuild (or if you are working on projects on behalf of a connected organization), contact your administrator to create a user account. Here you see which organizations that are connected to CCBuild.